The number of people who are known to have been cheated and reported to the police has exceeded 1000.
CFG and FML «brother» platform scam revealed.
Twitter, weibo, Facebook, friends, I have recently read some fake farce news about CityFootballGroup, short for CFG anti-bobbin.
There are cityfootballgroups that are involved in and run football projects. The only certainty is that CFG group is not involved in online investment projects. I think the real [CityFootballGroup] is coming up with a disclaimer;
My friends in circle 2 inquired the person in charge of CityFootballGroup's top youth training base in SG and learned that they did not know about the online investment project. Malay user @Gilongbo Football Club (33%) has not received a response;
3, CFG member disclosure said CFG has a lot of member group number to VIP100, each group accommodate about 200 people. CFG is said to be ready to sprint listed, with my understanding listed at least three years of profit requirements, do not allow losses listed impact on the stock market;
4. Unlimited compensation: the average compensation for one million members is 5K, and the compensation for a single loss compensation activity is at least 50M. Whether it is just a number in the eyes of the platform or an oral check needs to be verified;
Without further ado, the CFG scam is revealed below
CFG is reported above, now change the new platform or the original mode to change the name into FML
The model is the same, the profit point is the same, the structure is the same. A facebook search for CFG
There will be FML, and for those of you who have seen it, there will be profit points for CFG and FML, and membership, and gimmicks. They're all pretty much the same, and they're still out there. Still can see similar advertisement in relevant platform, please do not believe;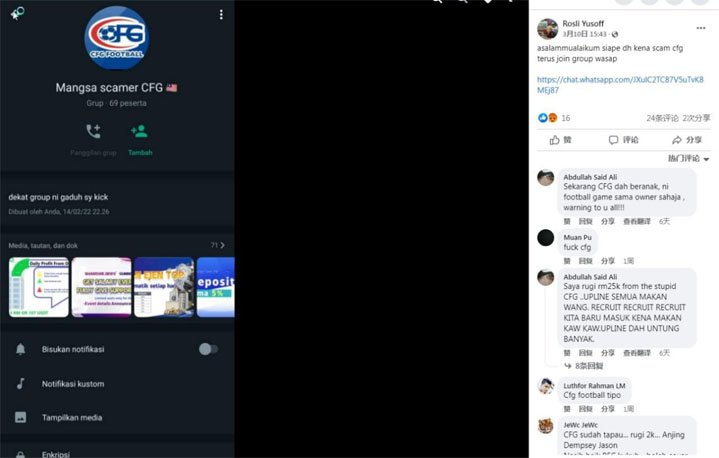 Xiaobian here to remind you that there are risks in investment. Please report to the police immediately if cheated. Stop your losses in time!